My portfolio when working for Chainings LTD.
Pressure Vessel made of PA66 GF
CP Level 381 Fuel Gauge
CP160 Class156 Coolant
CP Level 795
Insulating Oil Filtration Unit (Part No.: CP202-0000)
Fuel Filtration Unit (Part No.: CP4202-0000)
Compact Fuel Filtration Unit (Part No.: CP1202-0000)
The Chainings Fuel recovery system (Part No.: CP4203-0000)
Fastener Quality issue management
Class 175 Oil Filling Rig
TASKS TOOLS & RESPONSIBILITIES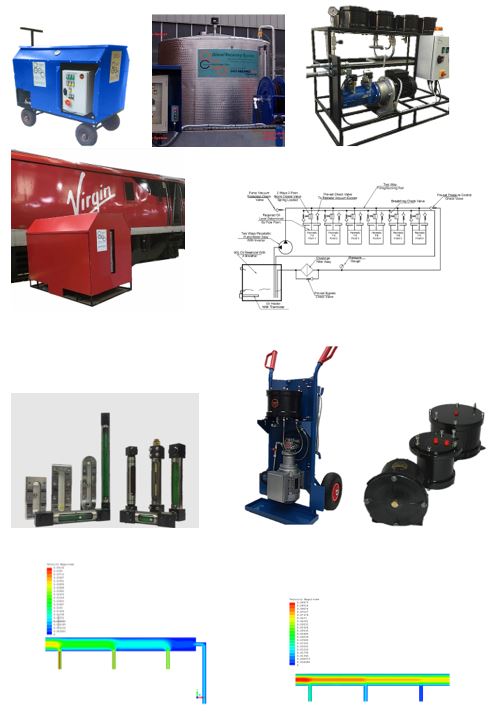 1. Pressure Vessel made of PA66 GF

Short description: Steel filter housing (pressure vessel) was expensive to manufacture, expensive for transportation, prone to corrosion in sub-sea applications, too heavy for underwater Remote Operating Vehicles (ROV's). Due to so many disadvantages an attempt to change the material of the housing was considered.

Previous experience with PA 66 GF in similar application made it again a choice as a low risk material. Due to unique approach of fastening the vessel and significant forces acting on the internal walls, FEA was required. FEA results were used in fatigue analysis. Numerical results had to be confirmed during endurance testing with dedicated rig for such task that could replicate worst case conditions – pulsation pattern.
Additionally extreme environmental conditions had to be considered as the product would be used outside of sub-sea vessels in operation, in the sub polar regions as well as Equator conditions.

Result: Project of the moulded vessel reduced the cost of the product by 25% and weight by 3/4.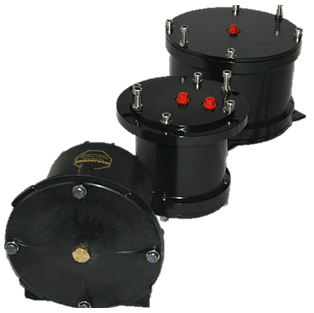 FLUID LEVEL GAUGES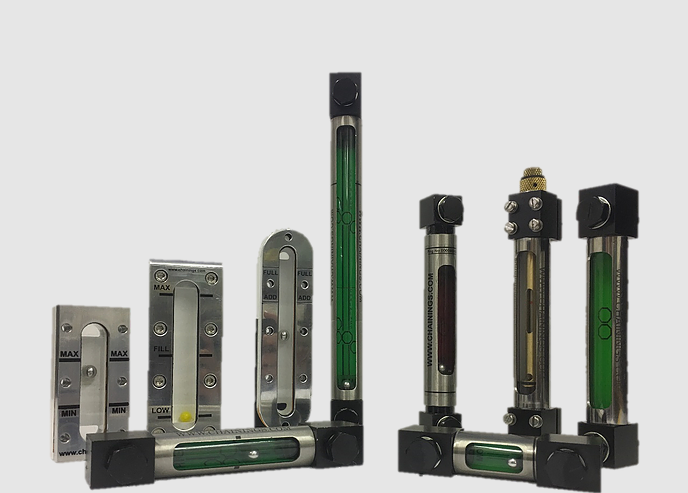 2. CP Level 381 Fuel Gauge
Short description: This product was designed to extend size range of the gauges offered by Chainings. It was a variation of existing product, which had to be adjusted to the customer specification.
Result: Product in sale.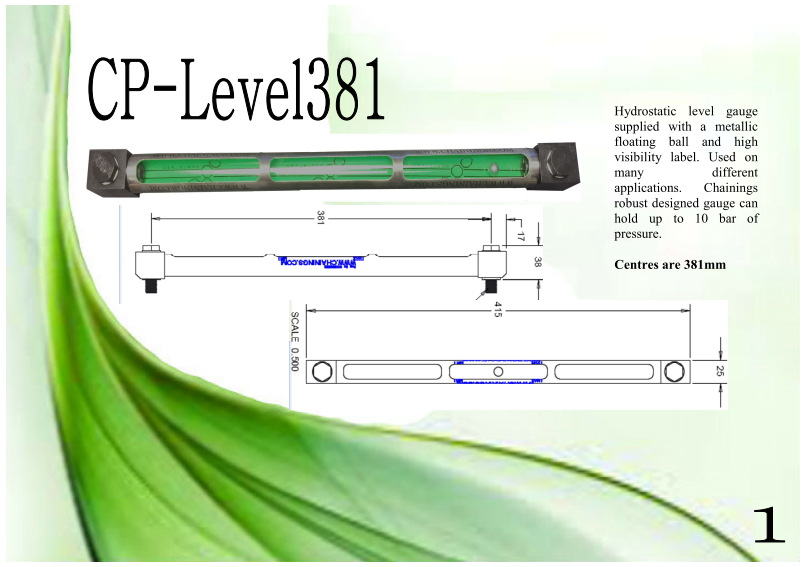 3. CP160 Class 156 Coolant
Short description:This gauge was designed in mind of various connection bore centers in applications designed for.
Result:Product in in sale.
4. CP Level 795 Fuel Gauge Design proposal was created to be installed on Chainings Fuel Recovery Systems and to be compatible with EMT Class 152

Description: A gauge designed in mind of being installed on train diesel fuel tanks so the high priority was, to make a very robust, easy to install, read the fluid level and maintain product. The gauge BOM included materials such as steel, aluminium and glass, sealants (compatible rubber). Fluid transfer channels made in steel blocks, stop valves, hydraulic banjo bolt to install the gauge on the tank and fasteners to assemble the whole body.

Result: The gauge was made in a short run production for installation on Chaninigs products. An example of the gauge is seen on the picture below. It's installed on Chainings Filtration Unit.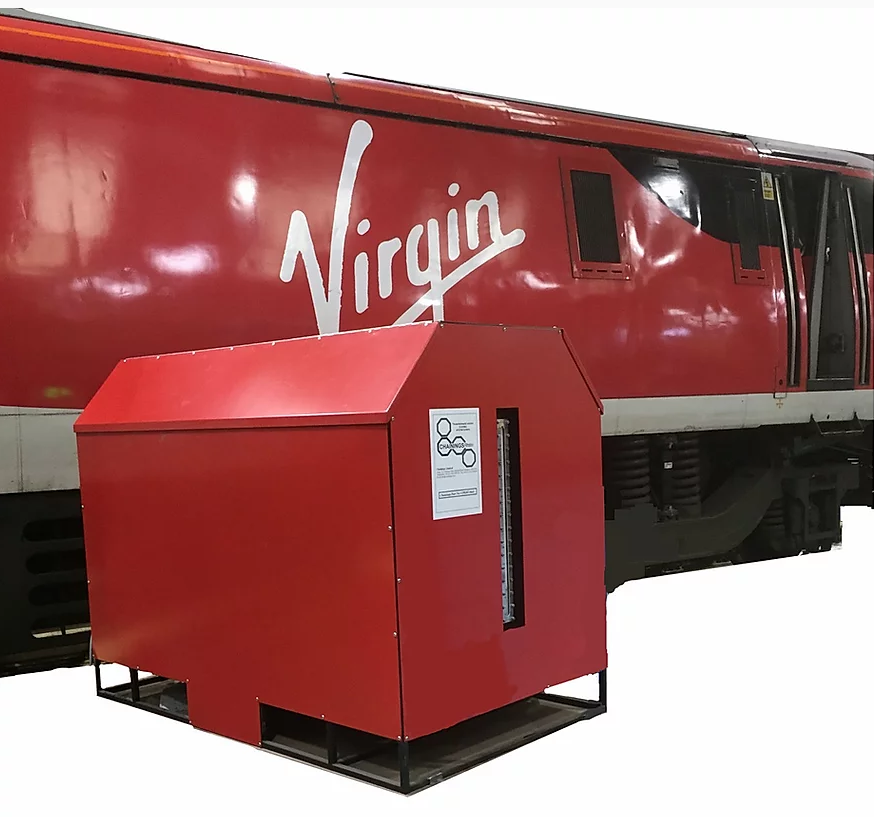 FILTRATION UNITS (5,6,7,8)
Insulating Oil Filtration Unit (Part No.: CP8202-0000)
Fuel Filtration Unit (Part No.: CP4202-0000)
Compact Fuel Filtration Unit (Part No.: CP1202-0000)
Fuel recovery system (Part No.: CP4203-0000)
Short description: The filtration units were designed to clean wide range of hydra-carbon fluids, some of the more general being hydraulic and lubricating oils. The devices are of various size and some of them were being custom made at the time as first of the range.
Result: All the filtration units above are part of the current company product range.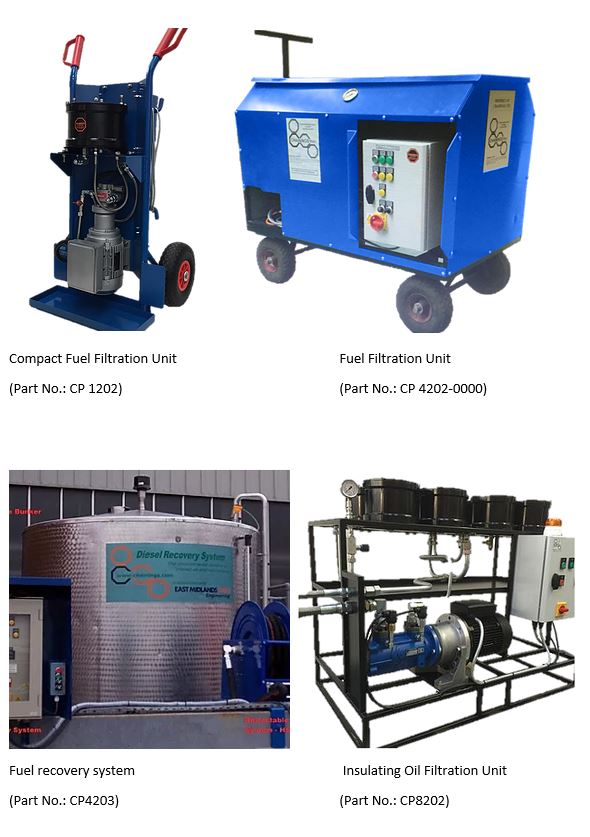 9. Fastener Quality issue management
Short description: One of the products developed a failure of the fastener and quality investigation began to analyze the root cause. Investigation included material micro structure research with support of research facility, calculations of the forces induced by strain of the device they were used on, analysis of stress state of the component, analysis of the surface quality after manufacturing (surface finish and quality of coating) for potentials stress concentration areas.
Result: Investigation was successful, root cause was found, bolt geometry was adjusted to resist complex strain state, quality of manufacturing was addressed and improvements provided.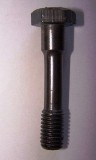 10. CP1123 Class 175 Engine Lubrication Oil Filter Priming Rig
Short description: Not in production filling station. System was designed in mind to provide exact amount of oil simultaneously for max 6 min 1 filters which then were supposed to be installed on the oil sump. Because the filters were installed at an angle there was high risk of spillage which would be environmentally unacceptable and not enough oil in the system would result in engine failure. 2 proposal of the hydraulic system were generated and CFD analysis was provided initial insight in fluid distribution.
Result: Internally least complex option was selected but it was more expensive alternative. Unfortunately it wasn't successful to become a product. The reason I mentioned this project is that I used CFD in this project to provide insight into fluid distribution depending on flow restrictions downstream.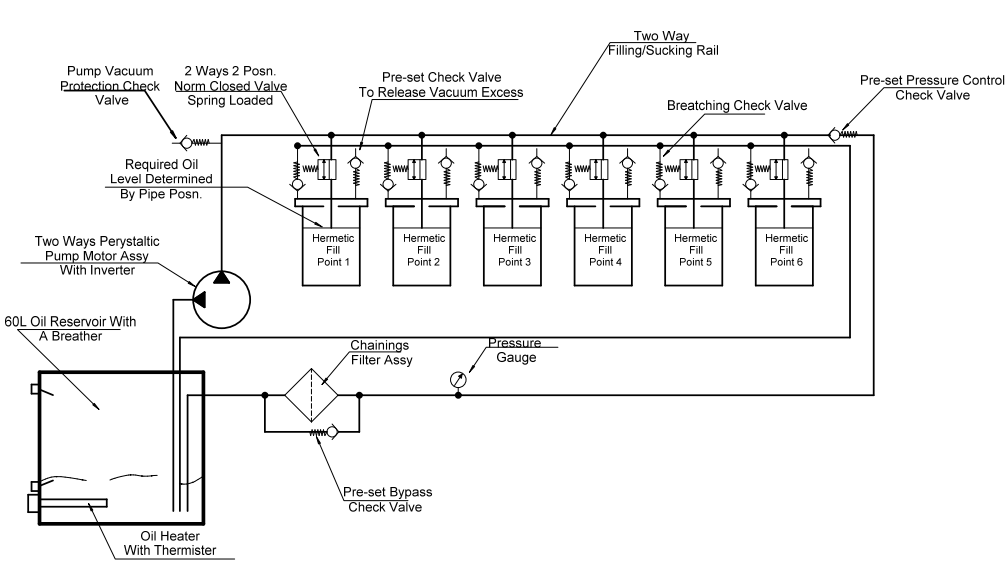 11.TASKS TOOLS & RESPONSIBILITIES
Tasks & Responsibilities
Full design cycle from a concept to a functional short run production prototypes
Project management
Suppliers selection and management of the selected ones
Contractors selection and management
CAD design/modelling
CAD drawings preparations (company standards based on BS88888)
FEA simulation
Hand calculations
Documentation management
3D modeling for marketing purposes
Documentation management
Source and select components (pumps, fittings, sensors, structure)
Fabricating some structural components Specify operation modes for electrical contractor
Tools
Creo Parametric CAD tool
Creo Simulate CAE tool
LISA FEM
Turbo CAD MS Office
SketchUp
MS Office
Hand calculations