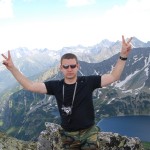 Hi, my name is Arek and this website will be about myself, fields of my interest, hobbies, career, plans etc.
The website is under construction so don't take it as a final stage but something that evolves and hopefully will get to the 95% of planned outlook sooner than later.
If you want to know some more about myself, please visit this www as I haven't transfered information from there yet.
Cheers,
Arek
P.S.
For security reasons some parts of the pages are password protected, please contact me if you require access to them. Reported hacking attacks just assured me that it was the right move to do so.